The number of positive cases of Covid-19 in Indonesia increased significantly in February 2022 due to the new variant called Omicron. As a result, there was the addition of 44,526 positive cases, bringing the total to 4,807,778 positive cases of Covid-19 as of March 2021.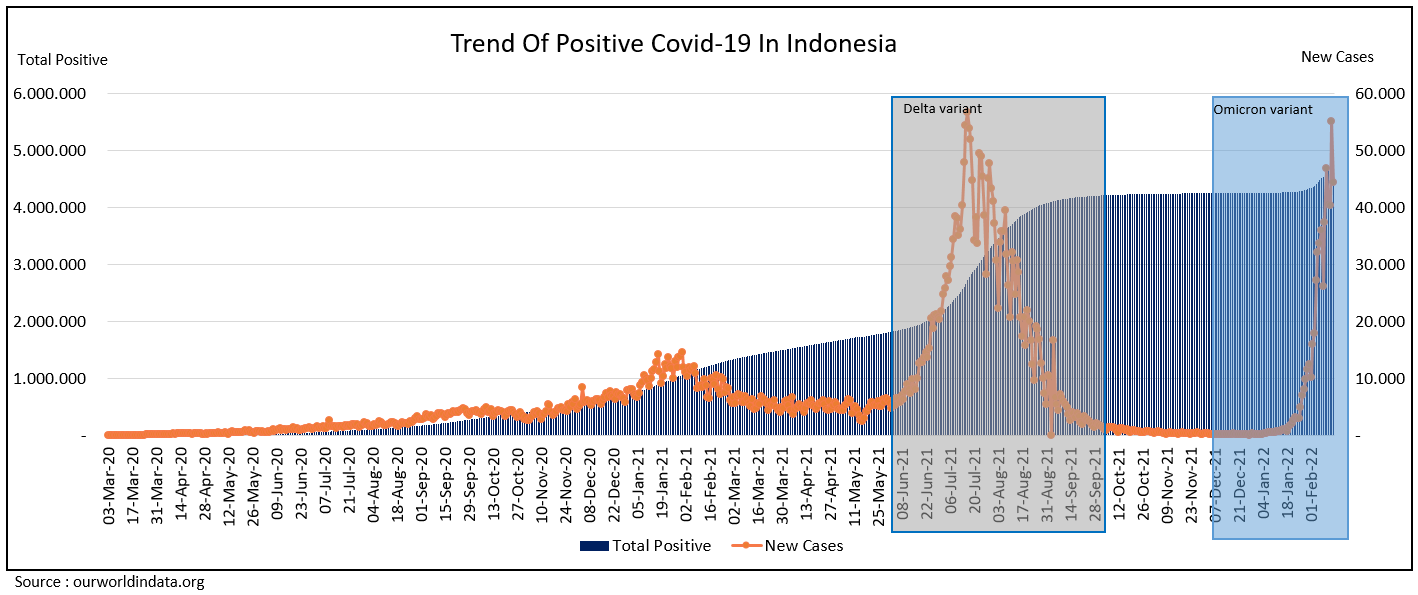 The omicron variant can affect someone who has been vaccinated but with mild symptoms or without any symptoms. Then, how does the public respond to this new variant? When the public heard that Omicron had entered Indonesia, the majority (53%) already felt used to it because, at this time, we have entered our third year with the pandemic. However, 40% of the respondents are worried about the new variant.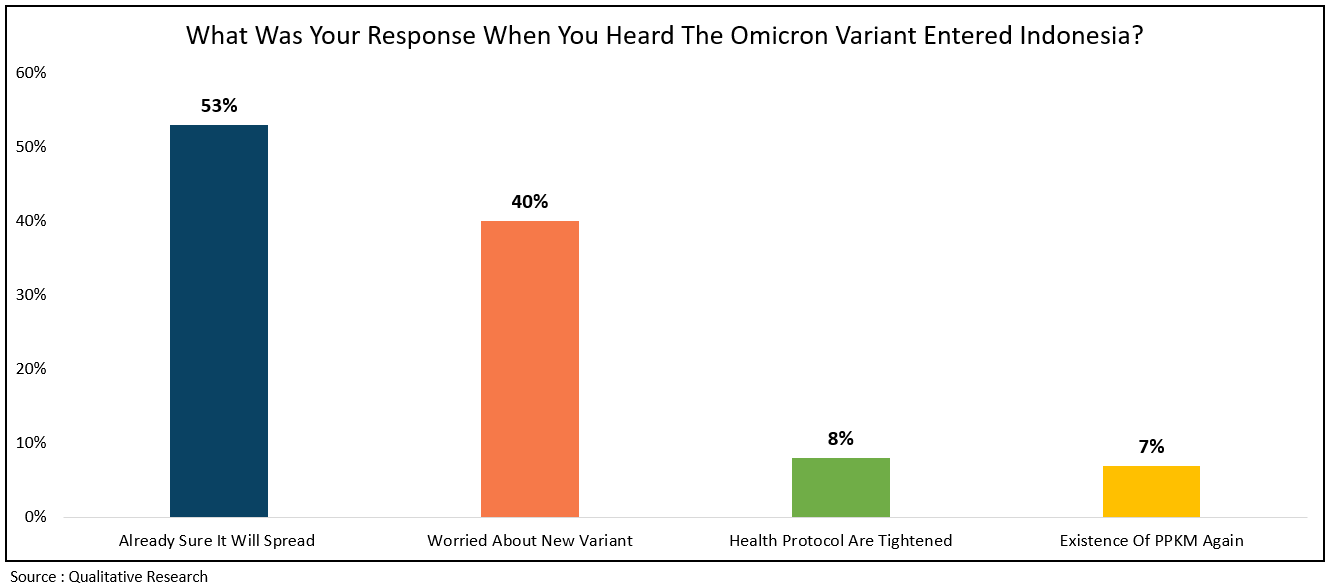 Then to prevent getting infected by the virus, 83% of respondents tightened their health protocol like washing hands more often and wearing a mask whenever they are doing outdoor activities. In addition, many of them also eat healthy foods and regularly take vitamins to prevent the virus.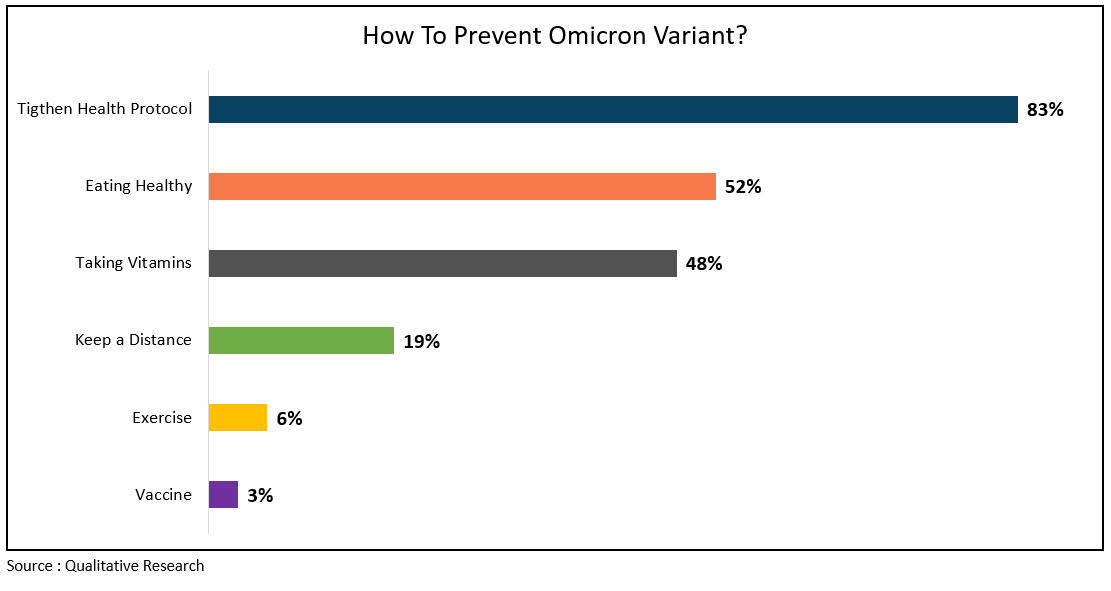 And with the rise of Covid-19 cases in Indonesia, the government has again implemented the Community Activity Restriction (PPKM) system, especially for cities with high case numbers. As a result, working activity will slow down again, and of course, this situation will affect decreasing income for certain people. Furthermore, in terms of meeting daily basic needs, 83% of the people choose to shop as usual and do not keep supplies because PPKM affects their income, and they are already used to the situation. Another 17% of people choose the stock up on groceries to reduce mobility.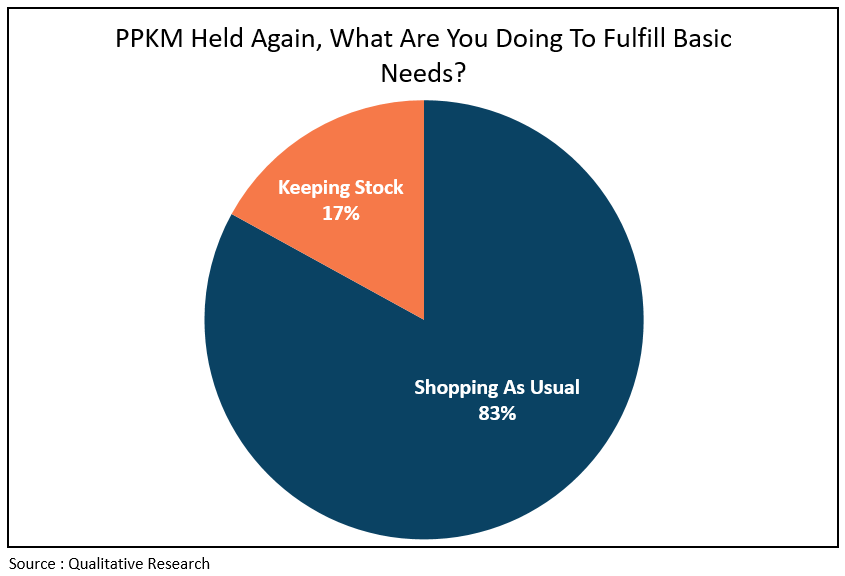 If we look into the minimarket transaction data when PSBB & PPKM is implemented, a significant increase in sales was experienced in the category of vitamins, antiseptics, and masks. And that brings us to the conclusion that when the Covid-19 cases increase, the public will start to tighten protection, both from the outside and within. When it comes to physical protection, normally, they will use the double mask and maintain cleanliness with antiseptic products such as hand sanitizer. And for protection from within, they will maintain their immunity by consuming vitamins regularly.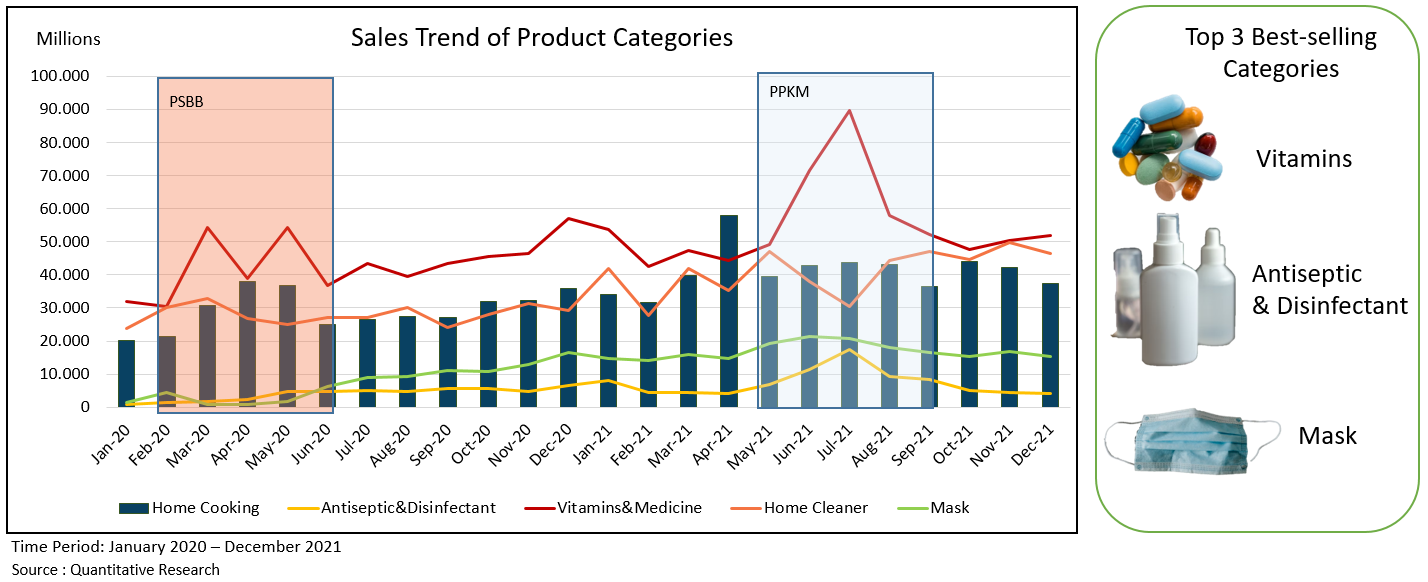 In general, for the vitamin and medicine category, people tend to shop offline compared to online, but online sales will grow significantly when PSBB & PPKM are implemented. And for the top 3 best-selling vitamins and medicine brands are led by Cap Lang, Sido Muncul, and CDR. In addition, besides the sales of vitamin products that increased during PSBB & PPKM, the sales of eucalyptus oil also went up because the public believes that eucalyptus oil is also effective for viruses prevention.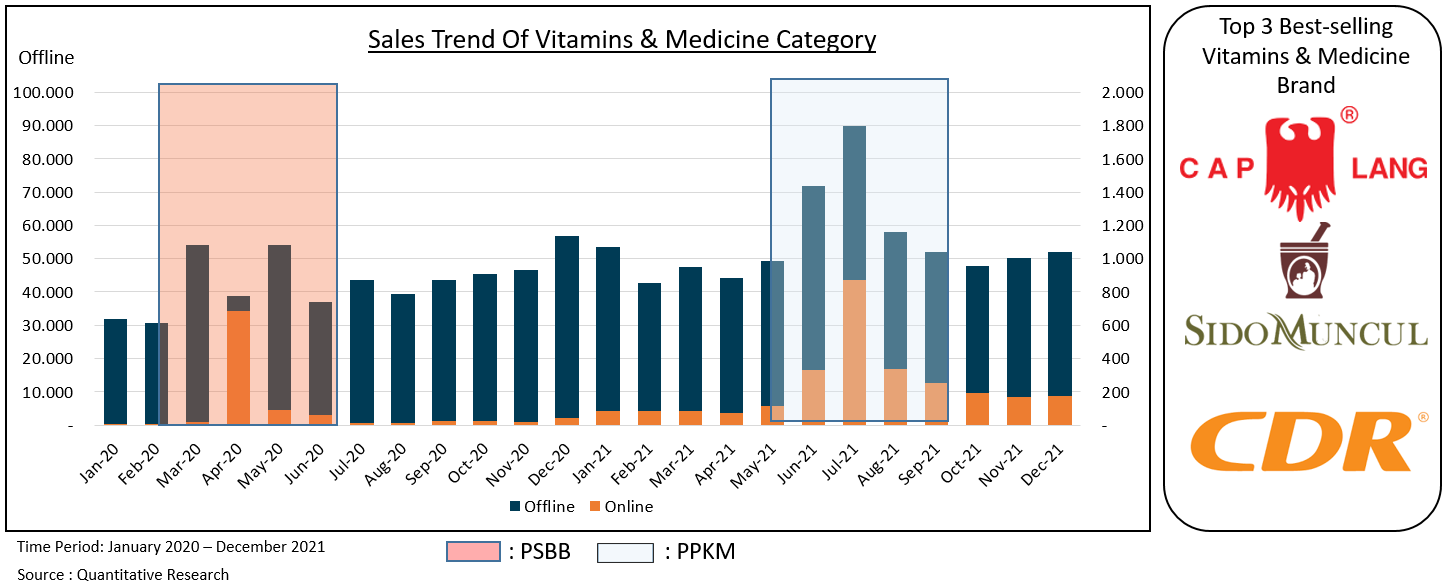 Like the vitamin and medicine category, the antiseptic and disinfectant category also shows significant sales growth during PSBB and PPKM. And for the top 3 best-selling antiseptic & disinfectant brands are led by Antis, Saniter, and Nuvo.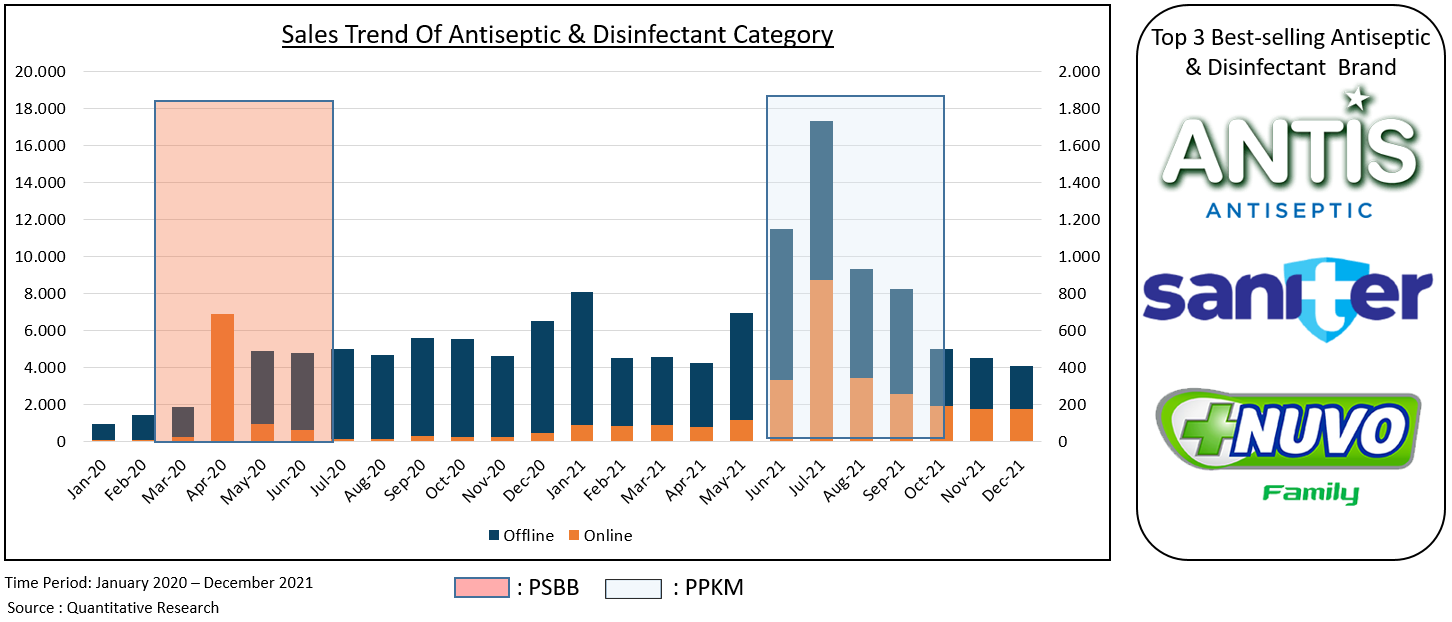 Last but not least, we have a mask category. One of the essential items during the pandemic is a mask. Masks become simple yet effective protection to prevent us from contracting the virus. Unfortunately, in 2020, we faced the scarcity condition of the mask caused by production issues that can't catch up with the demand in the market. However, in 2021, the mask supplies no longer became an issue. As a result, the sales increased significantly in 2021 and were dominated by offline transactions. Furthermore, the top 3 best-selling mask brands are led by Sensi, Softies, and Pokana.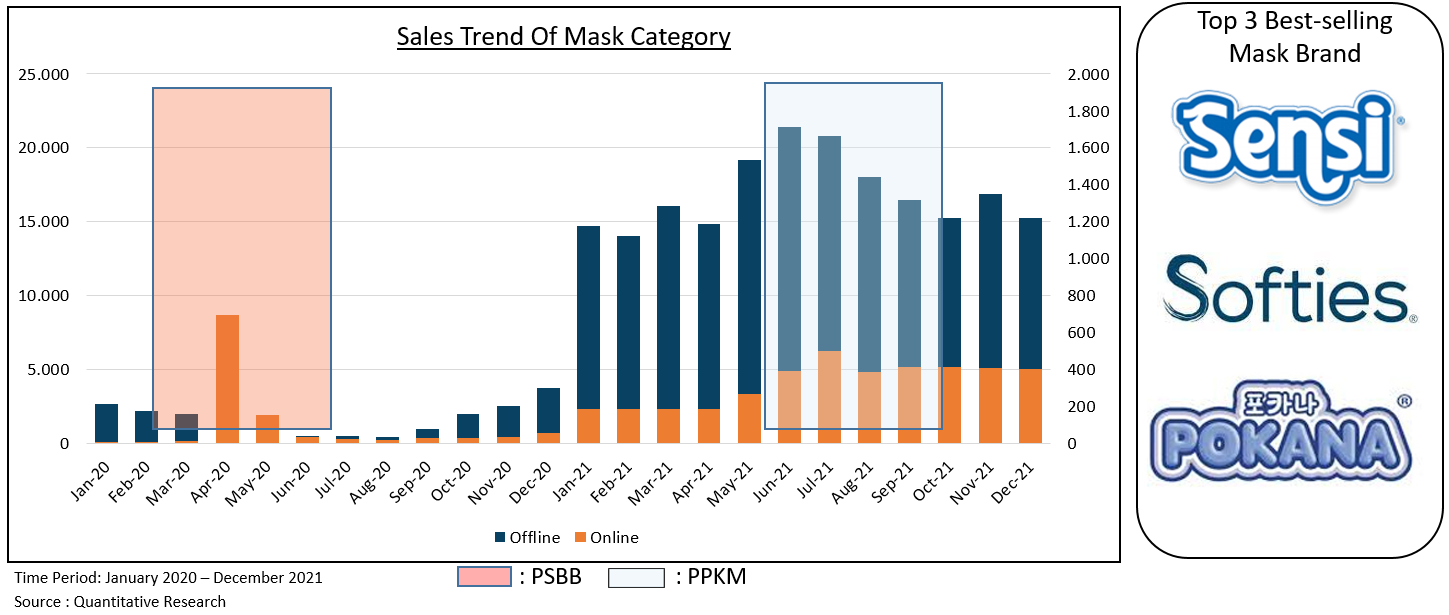 We hope these insights are beneficial for you, and if you would like to know more about consumer behavior, feel free to contact us.