Muslims in Indonesia are celebrating the holy month of Ramadan. One of the most eagerly awaited moments in the month of Ramadan is the disbursement of the Religious Festivity Allowance, known locally as THR. This one-month salary bonus helps increase the public's spending power during Ramadan. With the pandemic still around us, how do people spend their Religious Festivity Allowance money?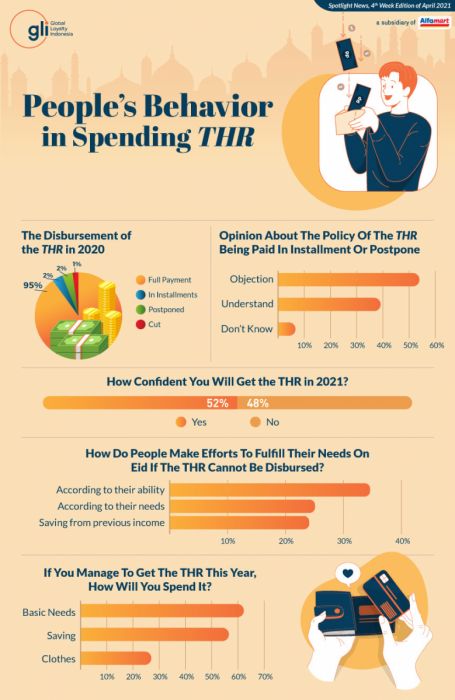 In 2020, the government allowed companies affected by the Covid-19 pandemic to pay THR in installments or postponed it, but the survey results showed that the majority of respondents had received THR in full before Eid. Based on last year's government policy regarding THR payments, many people objected to having their THR paid in installments or being postponed because they needed the money to prepare for Eid.
Even though in 2020 shows 95% of respondents have received a full THR before Eid, this year's survey shows that only half (52%) of people are optimistic that they will get the THR this year. It means that the current condition has not returned to normal and people are still pessimistic about the current condition. Then how do people make efforts to meet their needs on Eid if the THR cannot be disbursed? There are top 3 efforts to fulfill their needs on Eid, which is according to their ability, according to their needs and savings from previous income.
And if you manage to get the THR this year, how will you spend it? Our survey results show the top 3 categories of spending THR, those are spending on basic necessities, saving, and buying clothes. It means that many people are still worried and on guard in the current condition, so they prefer to spend THR for basic necessities and saving. Basic necessities can be easily found in convenience stores such as Alfamart.
How to create opportunities based on data in the current situation? Win through data with us, feel free to have a discussion with us.