Ramadan 2021 has arrived. Same as last year, we are going to celebrate Ramadan under unusual circumstances. Are there any changes between last year compared to this year in terms of consumer behavior?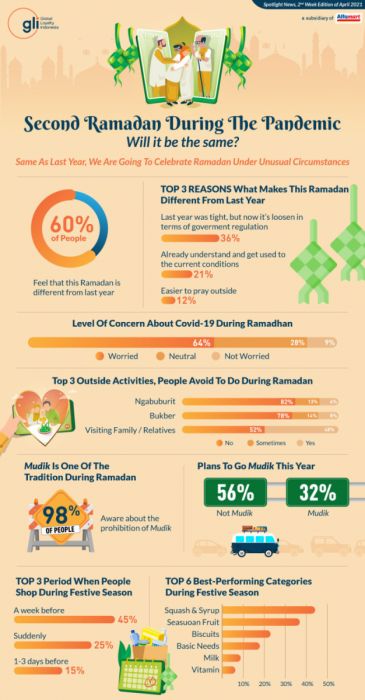 This year, even though the pandemic is still around, 60% of people feel that Ramadan 2021 is different from last year. Most of them feel the government is loosening the regulations this year compared to last year. However, there are still many people who are worried about Covid-19, it's reflected by the increased sales of cleaning, healthy and personal care categories during Ramadan. People also limited their outside activities such as "ngabuburit" and "bukber". Many people who choose to stay at home make categories like home cooking and snacks sales increased during Ramadan.

In March 2021, sales increased and the number of people who bought their necessities to minimarkets also increased. Some people have prepared for Ramadan long before the day although the majority of them prepare a week before. It is predicted to continue to rise until Eid al-Fitr. During Ramadan, many people prepared special food such as squash or syrup, seasonal fruit, biscuits, etc. And it's reflected by the increased sales of squash, syrup and seasonal fruit in March 2021.

One of the tradition during Ramadan is back to hometown, it is called "Mudik". However this year the government again prohibits "Mudik" for its citizens. 98% of people aware about the prohibition of "Mudik", and most of them choose not to go to their hometown. From 32% people who will go "Mudik", most of them change the date after eid al-fitr. Meanwhile, people who continue to go to their hometown on the prohibited dates are people whose homecoming places are not affected by the policy.


For people who don't go "Mudik", they prefer to spend their time with their families at home. Alternatively, they will visit their family or neighbour near their homes.

How about your sales during this Ramadan? Is there any opportunity that can be explored in this current situation? Win through data with us, feel free to have a discussion with us.